FRIDAY, NOV. 19th

10 am – 4 pm – King Ranch® Museum open
9 am – 4 pm – King Ranch® Visitors Center open
6:30 pm—Christmas Carols
7 pm – Light up Downtown & Christmas Tree. (1904 Train Depot Museum)
7 – 9 pm – Texas A&M University–Kingsville Senior Art Student Exhibit Reception. (Kleberg Bank)
8 – 10 pm—Acoustic show by Lauren Corzine
All Day Tours – King Ranch® Tours at 11 am and 1 pm; Wildlife Tour at 2:30 pm; Spotlight Tour 7 – 9:30 pm. (King Ranch)
Shopping – Shops open late until 8.
SATURDAY, NOV. 20th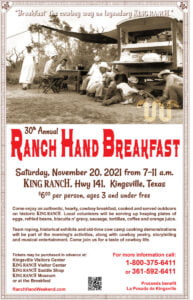 7 – 11 am – 30th Annual Ranch Hand Breakfast on the King Ranch®. Purchase tickets for $6 at the King Ranch® Saddle Shop, King Ranch® Visitors Center, King Ranch® Museum, Kingsville Visitors Center or at the breakfast! (fee benefits La Posada de Kingsville).  Visitors may park downtown, take the free shuttle bus to the breakfast and enjoy a heapin' plate of eggs, refried beans, biscuits n' gravy, sausage, tortillas, coffee and juice.  Watch team roping demonstrations, re-enactors, musical entertainment, poetry & storytelling. (King Ranch®)
7:30 am – King Ranch® 1/2 Day Birding Tour, King Ranch® Visitors Center open at 8 am until 4 pm. Daily tours begin at 9:30 am. Spotlight tour is from 7-9: 30 pm. (King Ranch®)
9 am – 4 pm – Vendors offering jewelry, original art, ceramics, leather goods, food, mesquite woodwork, crafts of all kinds, candles, clothing and more! FREE
Performances by Felix Truvere, Kingsville Youth Ballet Folklorico, Mariachi Nueva Vida, Mariachi Azul y Oro, plus other entertainers.
LIVE MUSIC & OTHER ENTERTAINMENT THROUGHOUT THE FESTIVAL
9 am – 4 pm – Art Roundup with Steam Roller printmaking. (7th & Yoakum Avenue)
10 am – 4 pm – King Ranch® Museum Open for Visitors
11 am – Chalk Art Registration, contest begins at 12pm and finishes at 2pm.
10 am – 4 pm – LIVE Music & other local entertainers (Main Stage) 
10 am – 4 pm Steam Roller Prints
12 pm – KING RANCH® CELEBRATION with the Kingsville Symphony Orchestra (TAMU-K Jones Auditorium)
2 pm – Chalk Art Winners announced
3 pm – Car Show Winners announced
7 pm – Country Concert featuring TB Announced joined by Felix Truvere & Lauren Corzine (J.K. Northway Expo. Ctr.)
SUNDAY, NOV. 24th
10 am – Cowboy Church Service (J.K. Northway Exposition Center)
11 am – 4 pm – Family Ranch Rodeo  (J.K. Northway Exposition Center)
Visit us on Facebook @kingsvillevisitorscenter or www.ranchhandweekend.com
1-800-333-5032